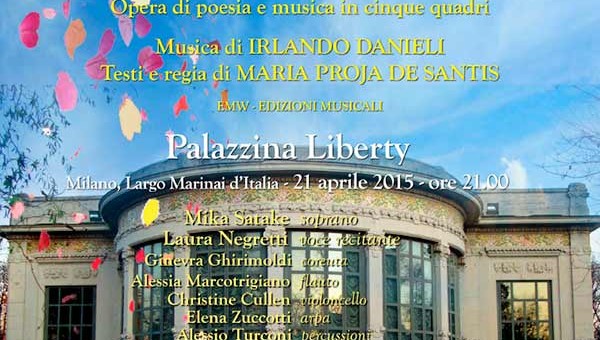 At the Palazzina Liberty, in Milan, Largo Marinai d ' Italy, Tuesday, 21 April 2015, at 21, the work will be performed in five paintings " ANEMOS, Breath of life ", music of Irlando Danieli, Maria Proja lyrics de Santis, inspired by biblical passages on the wonders of creation and the Cosmos vivified by Anemos, the wind, Divine spirit.

" ANEMOS, Breath of life " is carried out in collaboration with the Como Conservatory and Milano Classica, is the latest production of KALEIDOSCOPE-multiplicity by MariaProja de Santis, who anchela Director.
With great enthusiasm we part we too of this play ... how? WITH OUR CLOTHES.
Come to theatre, you can not fail to recognize our style 🙂
WE ARE WAITING FOR YOU!
ANEMOS – BREATH OF LIFE
PALAZZINA LIBERTY
21 APRIL – ORE 21